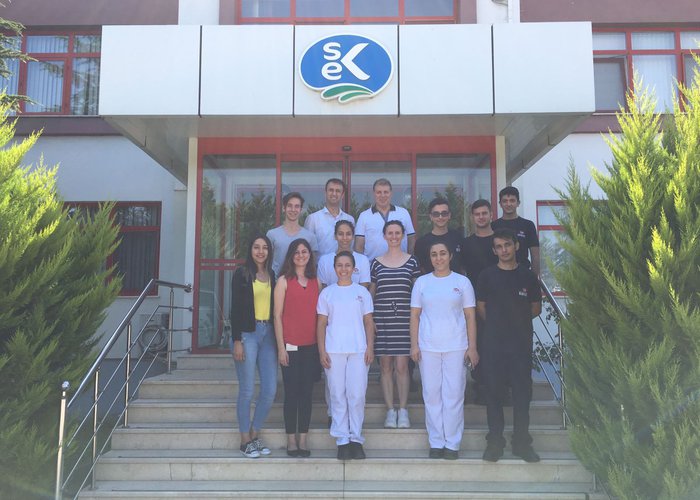 I generally made the quality control of the packaging. Also, I learned the processes in the dairy plant as working in production. Tat Gıda Sanayi A.Ş. SEK Dairy Plant serves its customers with an understanding of continuing quality from milk production stages up to the table. Each stage in this chain is monitored carefully, within the scope of understanding of quality. Having marked many firsts in its sector, SEK Dairy Plant has recently extended the shelf life of dairy milk to 10 days with its pasteurized milk in new packing, marking another first in Turkey. Thus, it has ensured that daily pasteurized milk in packing is delivered to many points, and consumers without access to daily pasteurized milk in packing in our country. SEK Dairy Plant is a food plant focusing on customer satisfaction, where TSEN ISO 9001:2008 Quality Management System and HACCP Food Safety Systems are implemented, engaging in production according to legal requirements and engaging in activities under the supervision of the specialist and experienced food engineers and agricultural engineers.
Any materials and raw materials used at the plant are carefully subjected to analyses and examinations and each stage of the production is controlled and monitored through various analyses and measurements. Thus, the products that fail to meet the legal requirements and the expectations of the consumers are prevented from being offered to consumers. The accuracy of the analyses and measurements performed are verified by the samples sent to the accredited laboratories.
The main product groups produced in SEK Dairy Plant are pasteurized daily milk, UHT milk, yogurt, butter, buttermilk, cheese varieties, flavored UHT milk, cocoa UHT milk, UHT creams, fruit, and vegetable fruit juices.